Ancient Corinth – Archaeological Museum
There was a time that the city of Corinth
was considered to be the richest city in
ancient Greece. Its strategic location,
the prosperity of trade, crafts and
cosmopolitan lifestyle attracted the elite
of the time. Philosophers, sculptors,
artists, architects were among the ones
who contributed to the city's prosperity.
Ancient Corinth compared only to Athens.
And of course, the Acropolis of Corinth,
a mighty fortress dominated the extended
area. No wonder why it kept on being
fortified and used by the upcoming
conquerors. And it's all there for you to
see.
A ten minute stop at the Corinth canal is
a pleasant surprise.
This is an approximately four hour trip
English speaking driver
We use Mercedes vehicles of latest technology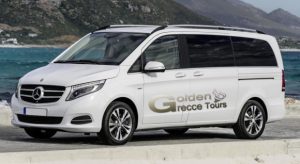 – For further information contact us